There is no mobile connection here at all, so the Great Human Relay is used instead. That's how people, their words and thoughts are passed on.
A journalist I know got to deoccupied Izium a day before me. On one of the central streets, she met a man who asked her to contact his daughter and tell her that her father was alive. Now it's my turn to go to Izium to deliver a return message from his daughter: "Dad, we are in the Czech Republic, come to us, we are waiting."
I know the road to Izium as well as I know the way to the store next to my house. Well, at least I used to. After Korobochkine, an empty satellite village of Chuguiev, we turn onto a dirt road. "That's something new," I'm thinking.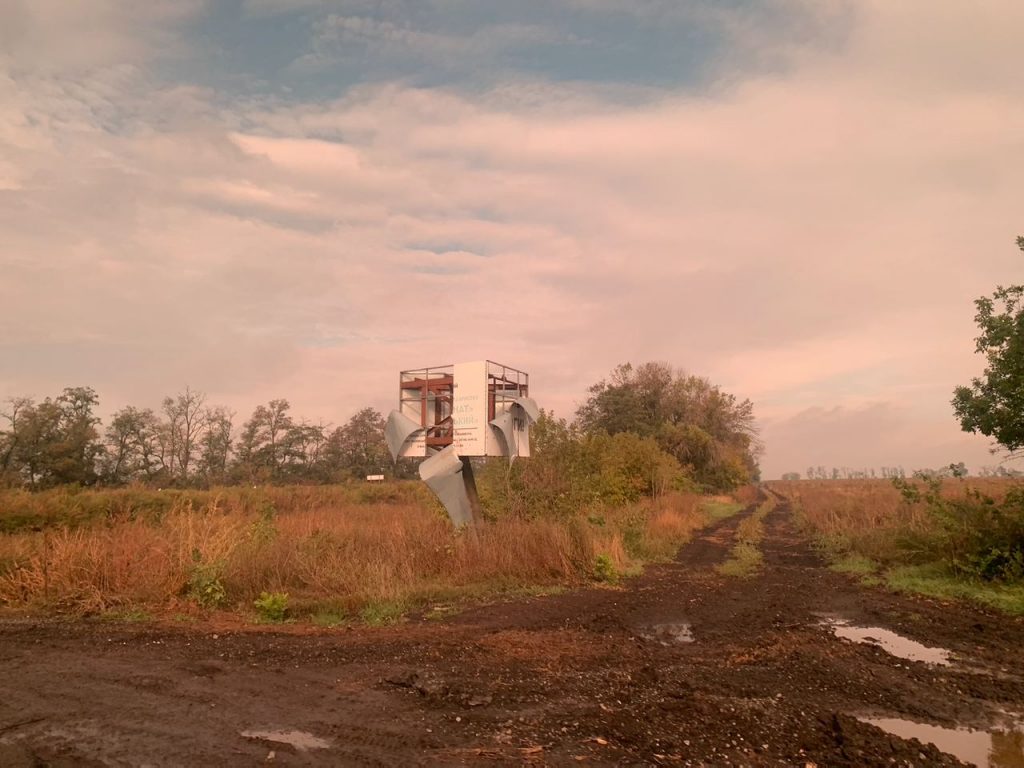 The path looks like any other dirt road during the war: black mush with trails left by tanks and heavy trucks.
On our left, there is a cut windbreak; on our right, a half-burnt sunflower field. A few electric poles are left in the field, their broken thick wires dangling freely.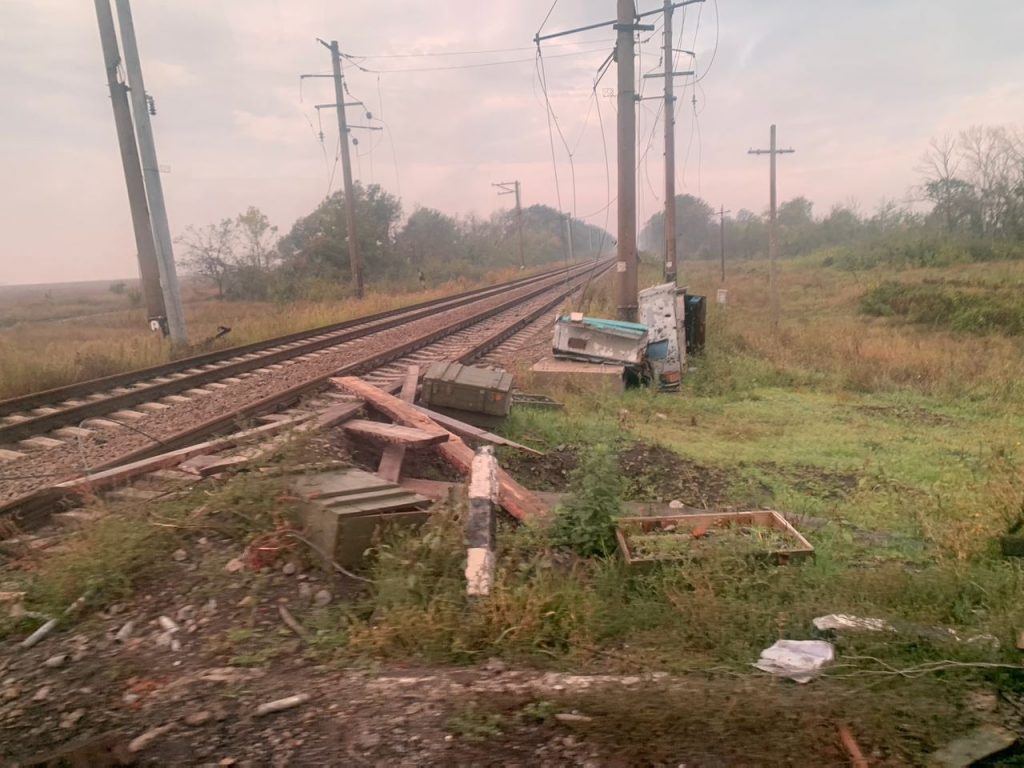 At the railroad crossing, we ignore the stop sign and drive on. Trains don't run here anymore, there's nothing to wait for. "You are entering the land of despair and hopelessness," I say to myself.
Next to a crossing, we see a car someone ran over. It seems to have been a seawave-coloured Seat. The passenger door that survived the accident has a brown letter Z painted over it.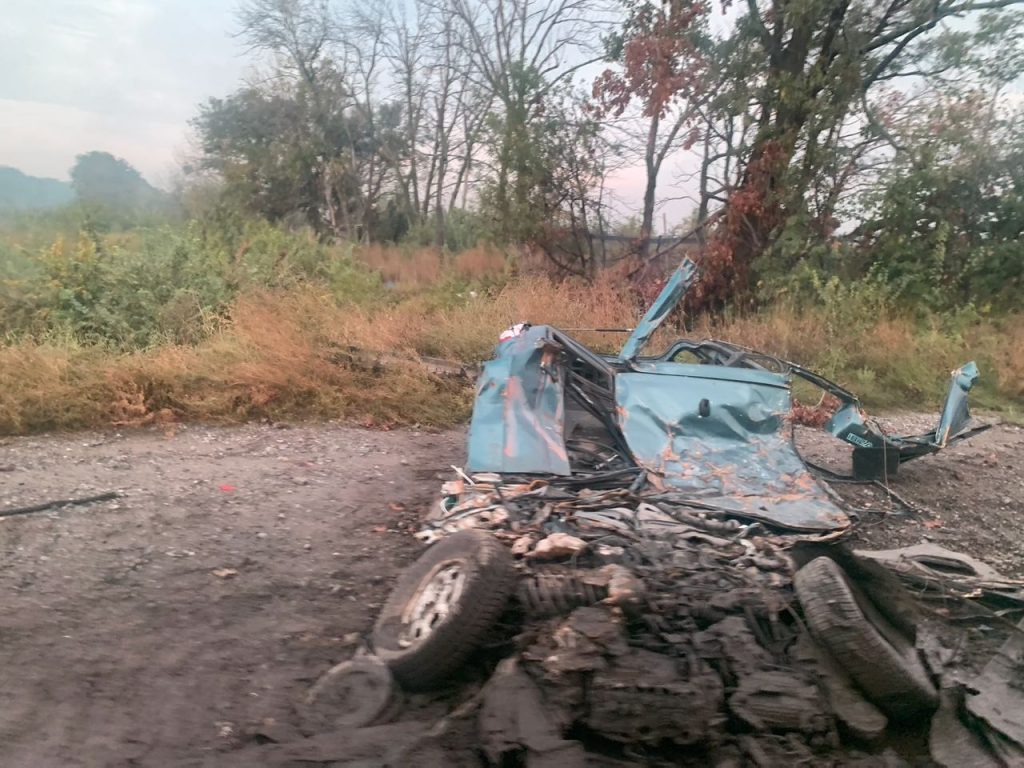 We see the first signs of life when we see asphalt again. In the next village, at a public transport stop—which will not be working anytime soon—women are watching the caravan of buses with curiosity.
On a nearby street, a man is leading a cow towards the fields. There are no young people here. Behind the village, on the side of the road, there is another crushed car. I don't see a letter Z this time.
Finally, we're rushing along the M 03 highway again. We're driving past an abandoned roadblock that reads "Kharkiv People's Republic" and, for some reason, "Luhansk People's Republic", then we're maneuvering around the burnt and already rusted armoured vehicles in our lane. 
Apart from this and the cars thrown into the blazes by the road, the scenery is exactly what I'm used to: mowed fields all around, fog. There are almost no cars on the move, though.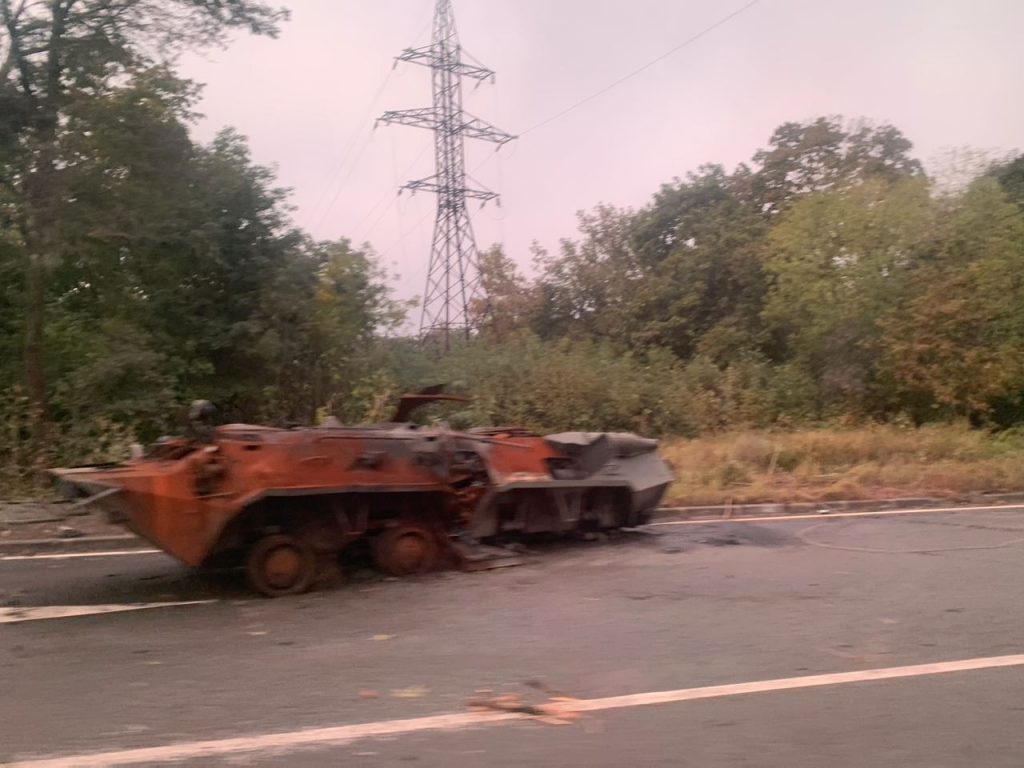 Near Volokhov Yar, there is another burnt military vehicle, next to it is a tank, probably a trophy one. A white Z stands out from under the painted flag of Ukraine. A few metres nearby, we see a huge sinkhole from a missile strike. Two soldiers are walking along the roadside. They smile and wave at us. We wave back.
There is a huge traffic jam at the entrance to Izium. There are trucks from one of the meat factories, small cars that have "volunteer» written on them, and normal civilian cars. Police officers are checking everyone thoroughly, passing documents along. They have their own Great Human Relay.
In the city, we are met by military and police officers. Some are making coffee, adding a lot of condensed milk, others are playing on their phones, someone is talking to a cat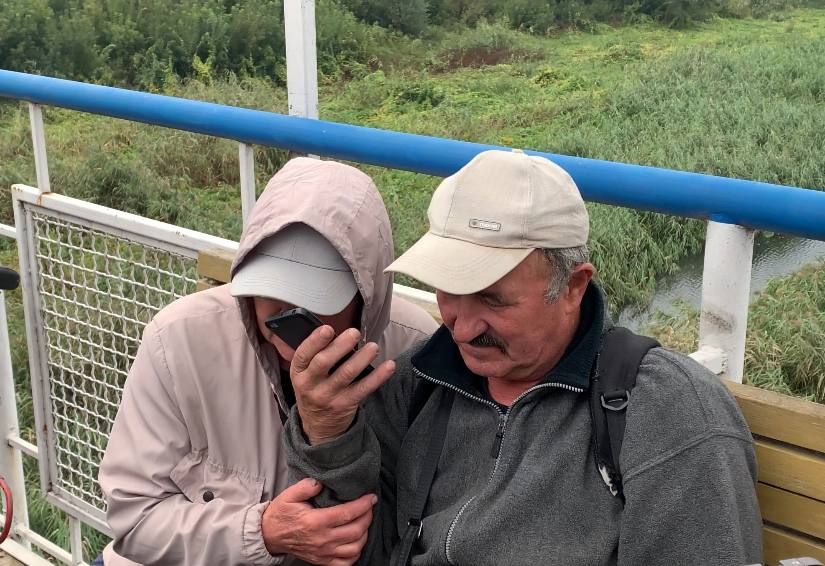 There are also many civilians. Some are carrying potatoes on a bicycle; an elderly couple on the bridge is trying to call their son. A dog is walking straight down the road towards the car. It is thin, its ribs are visible through the skin. It does not turn from the road, so we turn and drive around him carefully.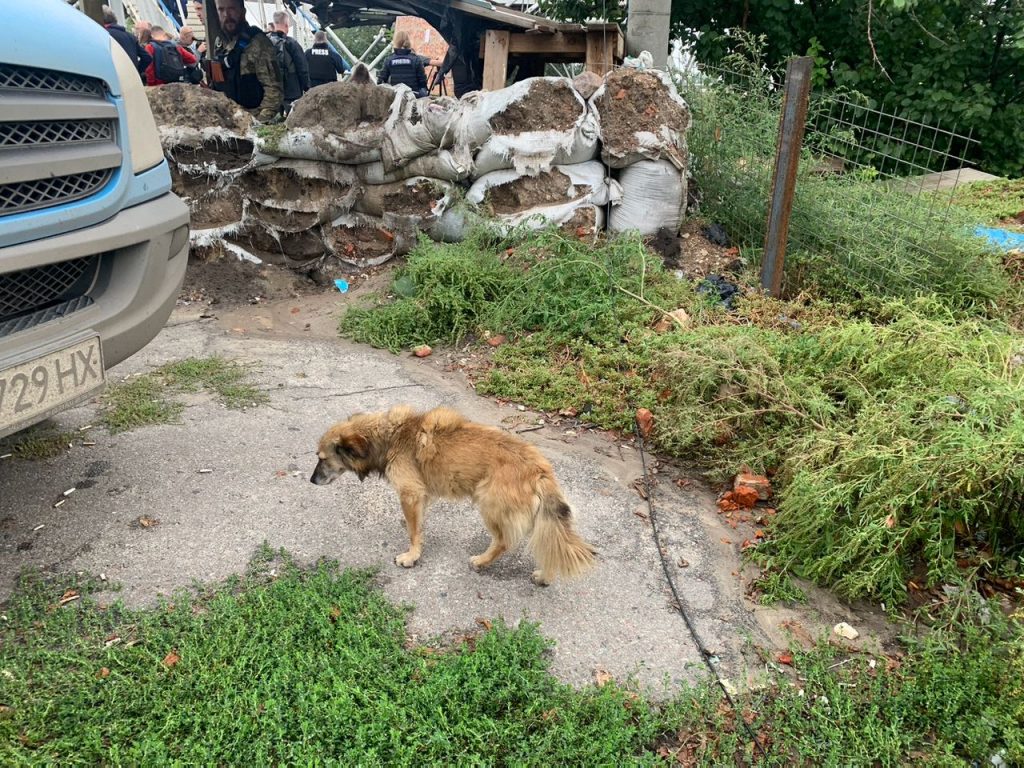 There are also many civilians. Some are carrying potatoes on a bicycle; an elderly couple on the bridge is trying to call their son. A dog is walking straight down the road towards the car. It is thin, its ribs are visible through the skin. It does not turn from the road, so we turn and drive around him carefully.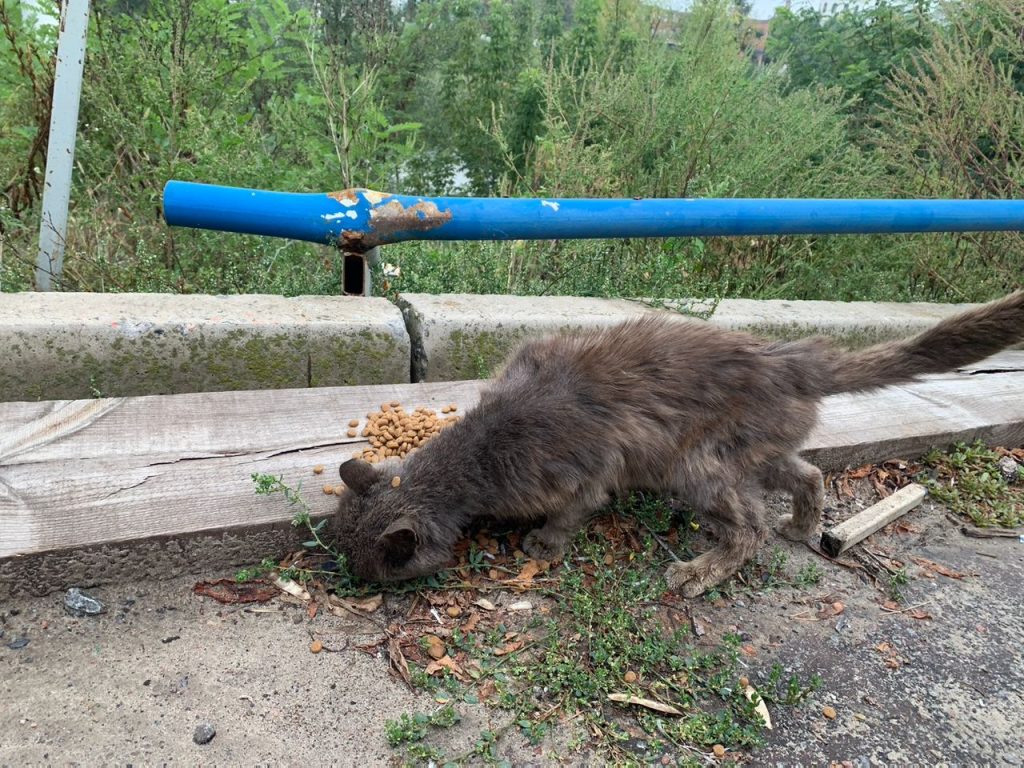 The shop is dark and full of customers: some are buying cereals, others are getting fresh anchovies. An elderly woman looks in and asks, "Is there ice cream?" The saleswoman says that they'll get ice cream only after they get electricity back.
Izium is now a city of women. Most of them have gathered on the square near the destroyed city council, where, according to the rumors, humanitarian aid will be given out  today. While the country is worried about the opening of McDonald's, the residents of Izium are currently interested in two things: electricity and water. They aren't even hoping for gas.
After seeing the camera, the women begin to complain about the mayor, about how he ran away and did not care about the residents. When I ask what he could do, the loudest one of the women says, "Well, maybe he couldn't do anything. But the mayor of Kharkiv didn't run away!"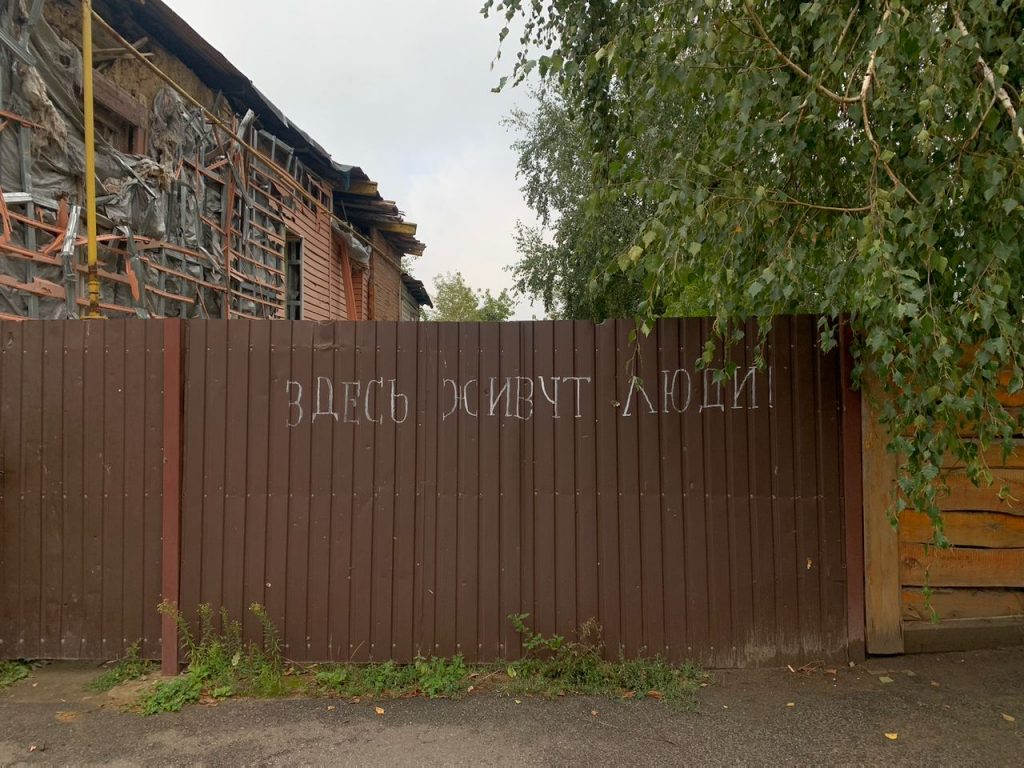 They know nothing about what happened outside Izium. They don't know about Bucha and Irpin, they think that Kharkiv was occupied.
Here in Izium, journalists rarely know for themselves who they're doing news for.
There is no mobile phone or internet in the town yet, so I recall the latest events to the local: Balakliia is already lit, a new comfortable electric train has been launched there. Without much hope, they say, "Maybe we will have something as well."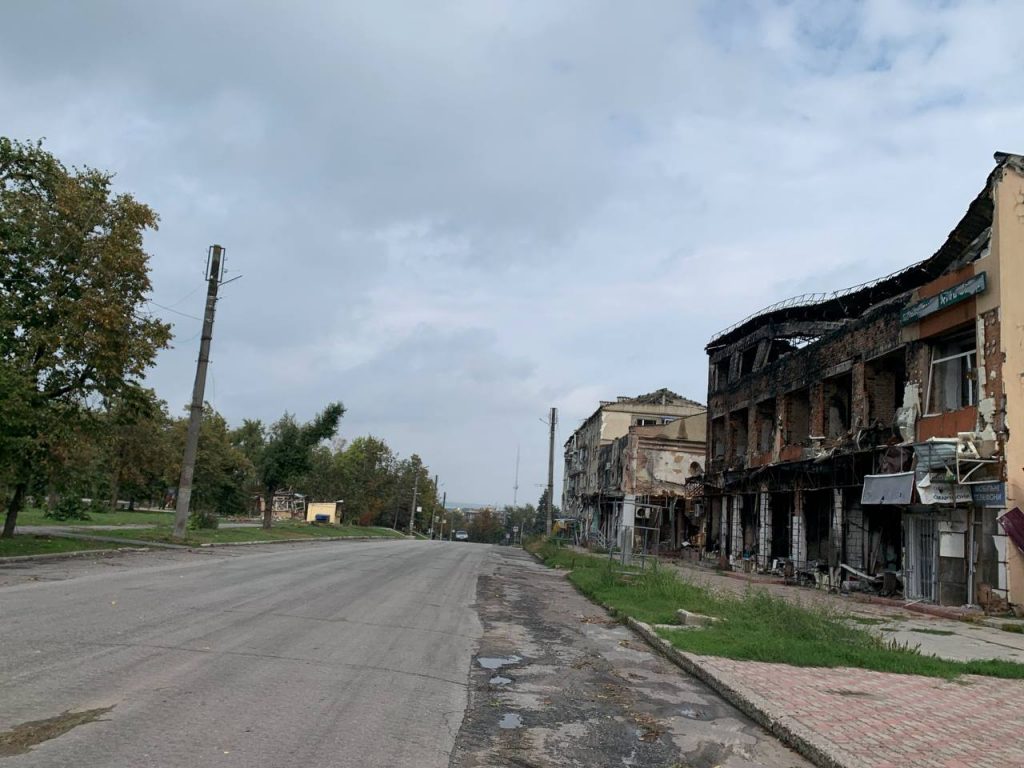 Nobody really talks about Russians here. Not the women I was talking to, nor the ones I met later. "People are different," "Well, they brought us humanitarian aid," "They behaved fine, only took away our phones." One elderly woman says, "I just want peace."
The one person who is talking about the Russians willingly is Maksym. There are fresh wounds on his wrists and legs from the shackles.
A week before the deoccupation, Russian military police came to his house. They searched Maksym and his apartment, and took him to the former police station.
Then, they began electrocuting him. Maksym doesn't know why they chose him. He says they were searching for the locals who were helping the Ukrainian Armed Forces. They gave him soup concentrate to eat, instead of a toilet he used a bucket that was emptied once every few days. One day they did not come for the bucket.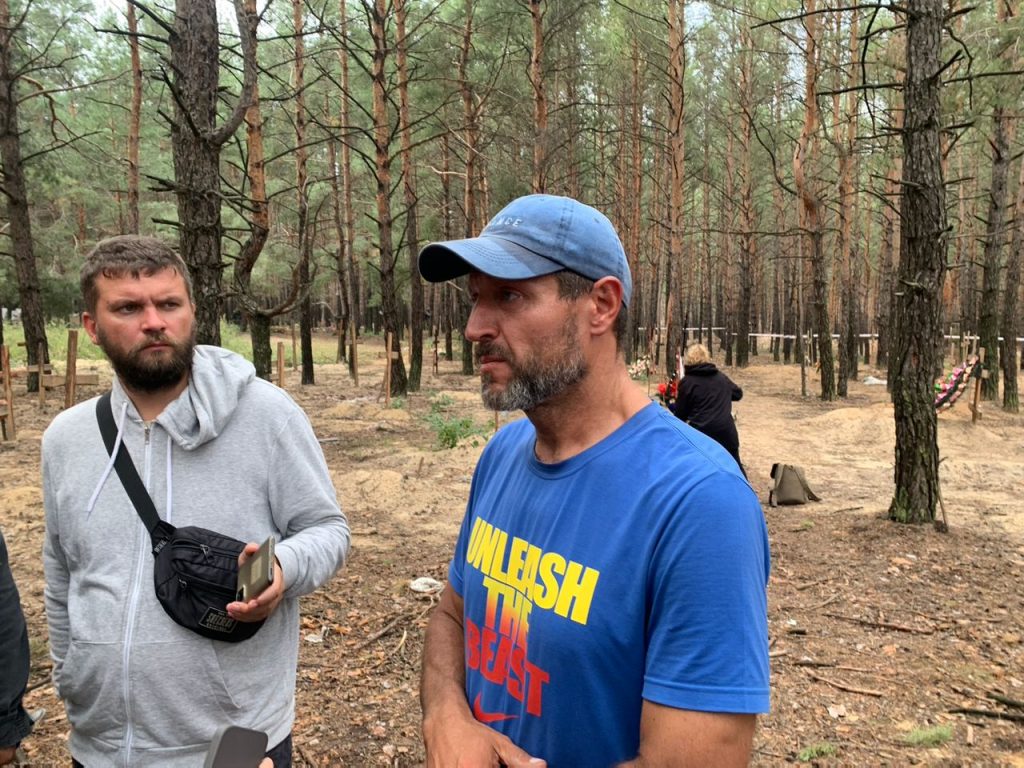 Everyone says that the Russians disappeared suddenly. They imposed a long curfew, and at night they disappeared from the city, blowing up the pontoon that they themselves had set up.
One of the women saw the last Russian soldier the next day: he approached the church and asked if it was working. When she said no, he turned and left.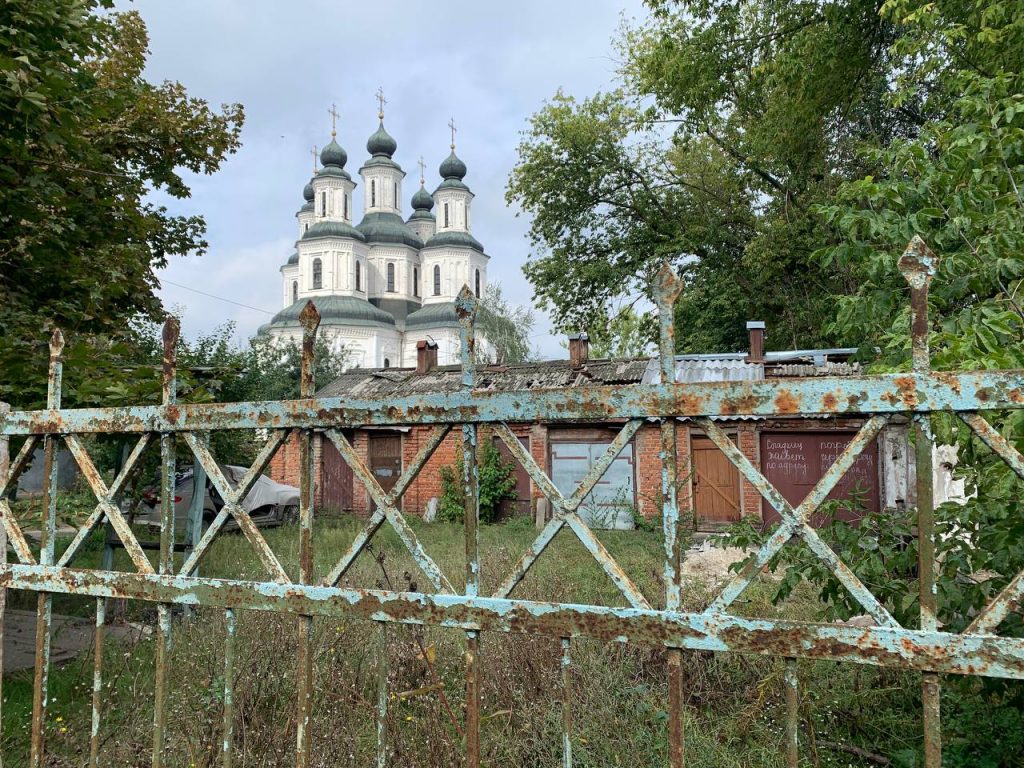 The maze of pine forest on the outskirts of Izium is surrounded by police cars. Instead of Ariadne, the thread here is being unwound by a criminalist. The further you go, the worse it gets. The smell of the dead bodies fills everything. People in white plastic robes pass bodies to each other: old people and babies, women and men.
I'm in pain.
                            I don't want to see it.
                                                        I don't want to be here.
                                                                                     I want to kill them all.
                                                                                                     This entire forest is a Z-letter.
Behind the already excavated graves, there are rows of pine crosses with numbers written in permanent marker.
The only thing that separates the graves are small trampled paths of sand. The Russians buried the people of Izium here. Some of the buried died from the March freezing cold. Some of them have their hands tied.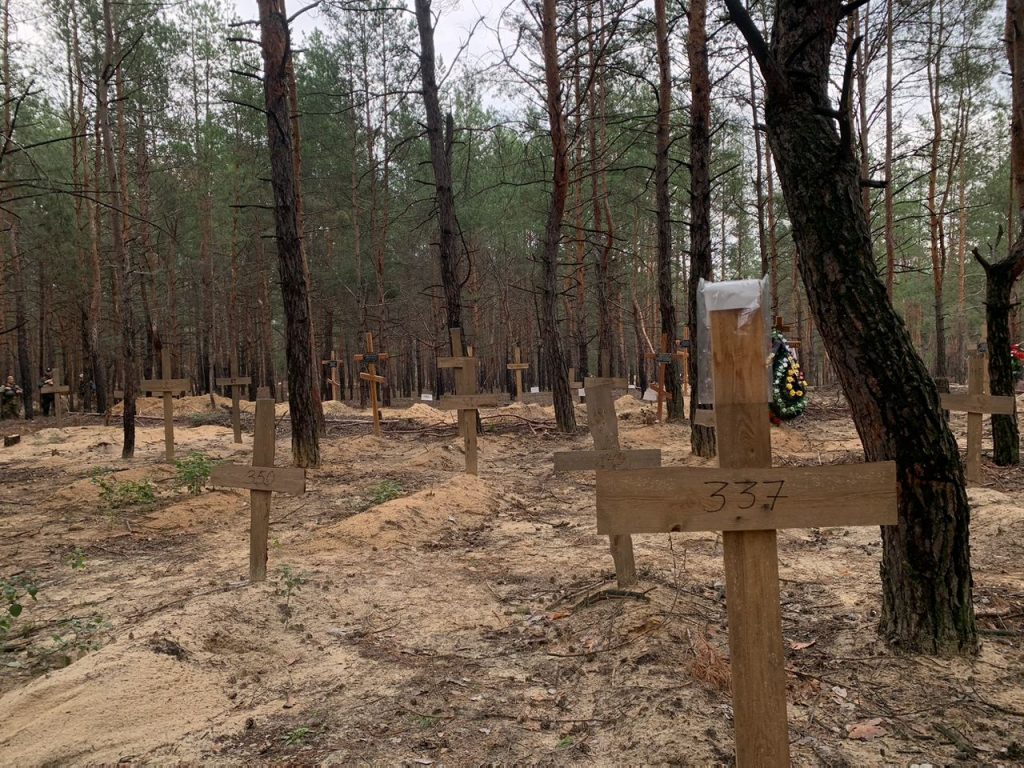 The operators—burly men who have witnessed a lot in this war—are smoking cigarettes non-stop. Not because of stress, but to kill the smell. After all, it could be worse, and it is getting worse.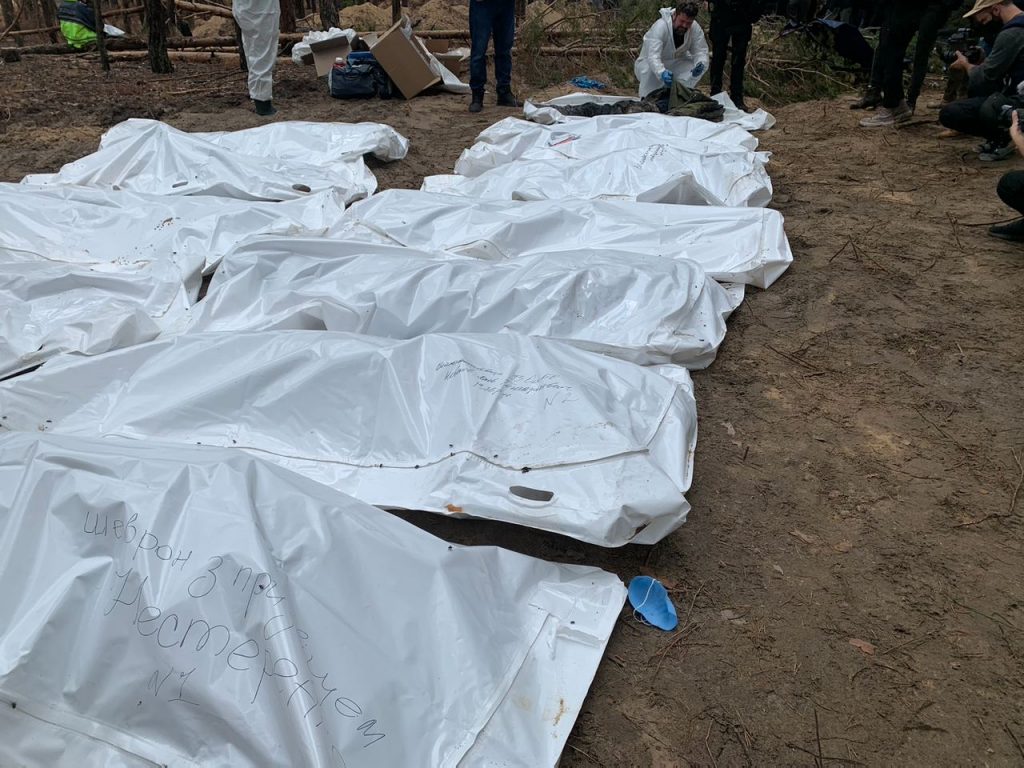 There are white body bags that lie separately and read, "Soldier of the Armed Forces of Ukraine. Unknown." One bag is not yet closed: the body doesn't seem to have a head. His hand escaped the bag and sank into the sand. His military uniform is damp and soaked in blood, but it is easy to make out the "pixel" camouflage of the Armed Forces on it.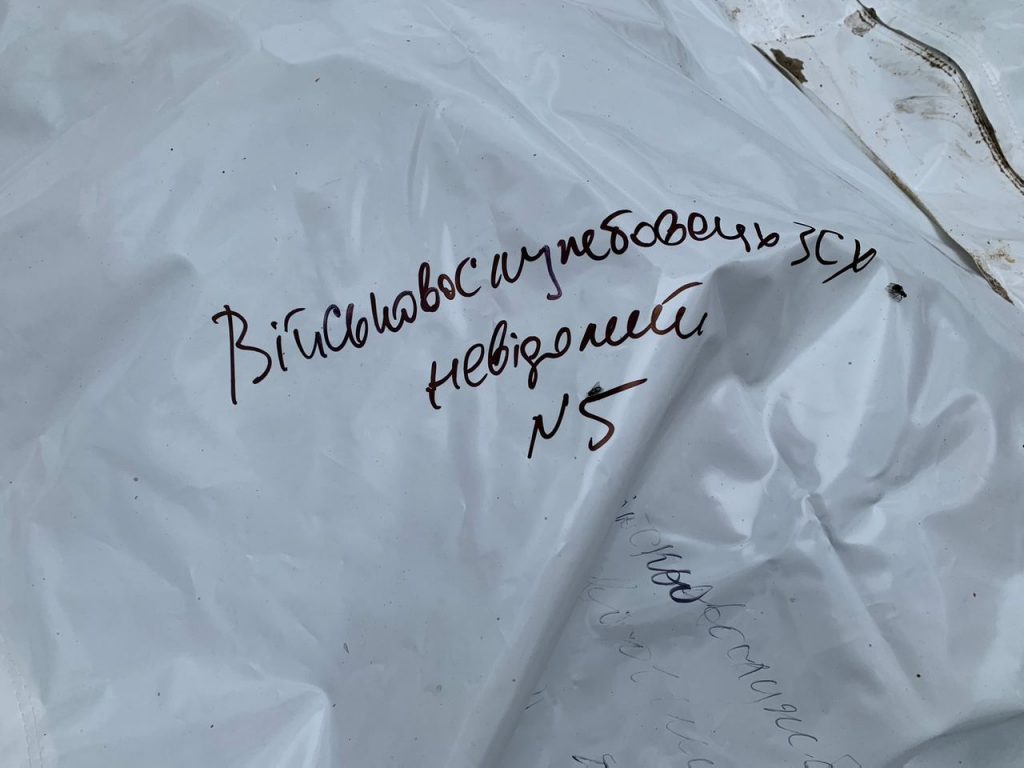 People in white plastic coats are climbing out of a deep grave, taking off their respirators and smoking. The memory of 400 graves under Izium is also a Great Human Relay.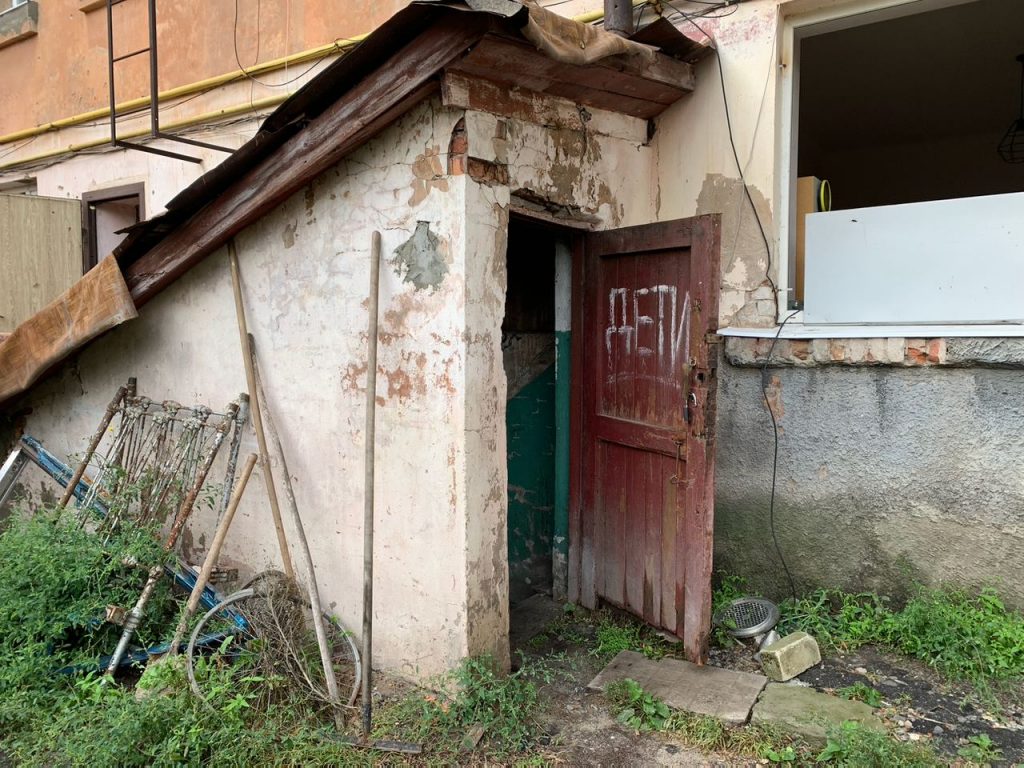 The Great Human Relay stops on me: I cannot find the man whose daughter called him to the Czech Republic.
Then it starts once again when a woman asks to tell her granddaughter in France that she is alive. I'm passing that message later in the evening.